A Leader in Gravity Die Casting
Rogers Industries Group manufactures an extensive range of aluminium castings to a very high standards. Our Gravity Die Casting method utilizes various horizontal, vertical and tilt pour machines which can produce castings weighing as much as 30kgs in runs above 10,000. Through the use of electronic furnaces, we maintain accurate temperatures throughout the production run.  
Out of the metal processes, die casting allows for high quality and large volume of production. Depending on the volume of product, we can advise on multi-cavity dies which allow for efficiencies in production. To ensure the highest quality, we utilise CA401 grade aluminium and regularly test material to ensure it is fit for purpose. We also manage casting defects such as porosity via our QA processes and continual training for our staff.
We also have the capability to manufacture sand-cores for complex internal geometries that would otherwise be impossible to cast without significant post-processing and expensive machining.
Our recent investment in low-pressure die casting equipment has extended the range of components we are capable of casting.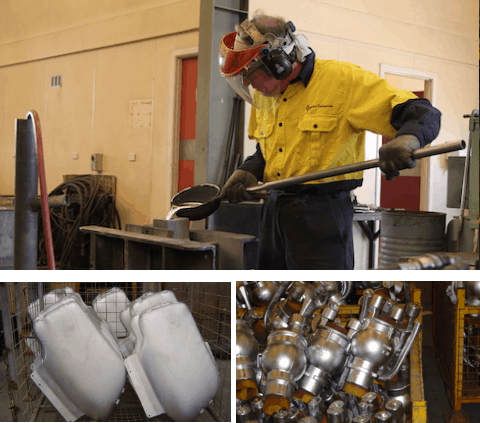 Don't settle for anything less than what your company deserves. Your products should be delivered to a high quality first time and within the timeframe promised.